Penn Nursing
Penn Nursing is built on a bedrock of doing more. Doing more—as clinicians—to save patients at the bedside. Doing more—as scientists—to solve unsolvable challenges. Doing more—as activists, policy makers, and leaders—to make high quality health and wellness care more accessible in our communities.
Penn Nursing has the number one undergraduate nursing program in the country, is the number one nursing school in the world, and has multiple number one and top-rated master's programs in the U.S. Penn Nursing experts and leaders have been advancing science and delivering solutions, shaping policy and practice, and engaging communities to promote health for over a century.
Search results
Now showing
1 - 10 of 279
Decreasing Continuous 1:1 Observation of Patients Experiencing Delirium by Improving Nursing Knowledge
2020-12-15, Frankel, Sunne E
Abstract BACKGROUND: Nursing leadership identified that Certified Nursing Assistants (CNAs) and Registered Nurses (RNs) on the Acute Care for Elders (ACE) unit lacked delirium knowledge. Patients were being placed on continuous 1:1 observation without proper delirium assessment which the CNO identified as an opportunity to improve resource utilization. METHODS: A quality improvement project was conducted on the ACE unit at Penn Presbyterian Medical Center (PPMC). The CNAs and RNs completed a delirium knowledge survey prior to and after viewing an evidence-based dynamic education module based on the Hospital Elder Life Program (HELP) protocols. Pre- and post-survey mean scores were compared. Continuous 1:1 observation utilization was analyzed two months prior to and two months post-implementation to determine if the education impacted continuous 1:1 observation utilization. RESULTS: 17 CNAs and 34 RNs completed the pre-survey. Mean pre-survey scores were: 11.76 (sd 1.92, range 7-15) for the CNAs and 13.5 (sd 2.11, range 9-17) for the RNs. Ten CNAs and 20 RNs completed the post-survey. The post-survey mean scores were: 13.5 (sd 2.68, range 9-16) for the CNAs and 14.7 (sd 1.76, range 11-18) for the RNs. Bi-weekly continuous 1:1 utilization decreased from 5.0 to 3.4 after implementation of the evidence-based dynamic education module. CONCLUSION: Evidence based education on delirium prevention, identification, and interventions using the HELP protocols can improve CNA and RN knowledge and help reduce the financial strain on the health system by decreasing continuous 1:1 observation utilization.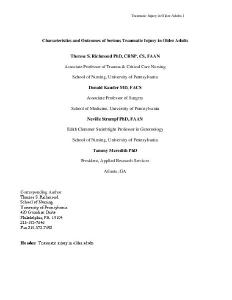 Characteristics and Outcomes of Serious Traumatic Injury in Older Adults
2002-02-01, Richmond, Therese S, Kauder, Donald R, Strumpf, Neville, Meredith, Tammy
Objectives: The aims were to: 1) describe the seriously injured older adult; 2) characterize and compare the differences in injury characteristics and outcomes in three subgroups of seriously injured older adults: 65-74 years, 75-84 years, and >85 years of age; 3) identify risk factors for death, complications, and discharge placement at hospital discharge. Design: A retrospective secondary analysis of a statewide trauma data set from 1988-1997. Setting: Data submitted from all designated trauma centers in Pennsylvania. Participants: The data set yielded 38,707 patients with a mean age of 77.5 years with serious injury (mean number of injuries = 3.6, mean number of body systems involved = 2). Measurements: Key outcomes were mortality, complications, and discharge placement. Abbreviated Injury Score categorized injuries and Injury Severity Score (ISS) quantified anatomic severity of injury. Results: Mortality was 10%. Mean length of stay 11.5 days. 52.2% of survivors were discharged home and 25.4% to a skilled nursing facility. Injury severity, total number of injuries, complications and increasing age were predictors of mortality (p<.01). The presence of pre-existing co-morbid medical conditions increased the odds of experiencing a complication over three-fold. Increasing age, total number of injuries, injury to extremities or abdominal contents, injuries due to falls, and lower functional level predicted discharge to a skilled nursing facility (p<.01). Conclusions: Traumatic injury in older adults are typically multisystem, life-threatening, and affects older adults of all ages. The standard ISS does not fully capture the potential for mortality in older adults and does not predict discharge placement. The majority of older adults survive multisystem injury. Our findings indicate the need to examine outcomes beyond mortality and to make the identification and management of co-morbid conditions a priority. A geriatric consultation service could be an important additional to the interdisciplinary trauma team.
Implementing and Evaluating a Sepsis Algorithm to Mitigate Acute Care Readmissions in an Inpatient Rehabilitation Facility
2020-12-28, Lockett, Michelle L
BACKGROUND: Readmissions from post-acute care to acute care hospitals is well documented in the literature. Inadequate management of infection is a top readmission diagnosis and is often preventable. Nurse driven, protocolized treatment is the gold standard for treating sepsis patients in post and acute care settings. A quality improvement (QI) project was implemented in a 58-bed inpatient rehabilitation facility (IRF) to determine if a nurse-driven sepsis algorithm would decrease readmission rates to acute care hospitals, increase nursing staff sepsis knowledge, clinical confidence and communication. METHODS: This QI project was performed during a 3-month period in 2020. Readmission findings were compared before and after the study intervention implementation. Changes overtime in sepsis frequency were assessed through run charts. Pre- and post- survey data of sepsis knowledge, clinical confidence caring for a sepsis patient and care provider and clinician communication was assessed using a Wilcoxon Signed Rank Test. INTERVENTION: By utilizing the Systemic Inflammatory Response (SIRs) criteria, the Situation, Background, Assessment and Recommendation (SBAR) tool and Surviving Sepsis Campaign guidelines, a nurse driven sepsis algorithm was created and implemented in the rehabilitation facility. Additionally, pre-and post-surveys were administered to assess nurses' knowledge of sepsis, clinical confidence in caring for a patient with suspected sepsis and bedside clinician to provider communication. RESULTS: Results show a decrease in readmissions to acute care hospitals post intervention but no statistically significant change in pre-post survey of sepsis knowledge, confidence or communication. CONCLUSIONS: An additional PDSA cycle of this QI project is needed to determine a true sepsis decrease overtime using the sepsis algorithm. A sepsis pre and post-test, and role play simulations may be key to a change in sepsis knowledge, confidence and communication. Keywords: inpatient rehabilitation facility, IRF, readmissions, sepsis, infection, surviving sepsis campaign, algorithm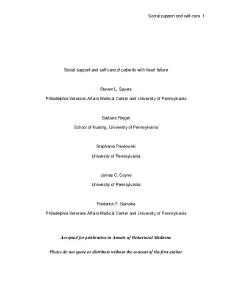 Social Support and Self-Care of Patients with Heart Failure
2008-02-20, Sayers, Steven L, Riegel, Barbara, Pawlowski, Stephanie, Coyne, James C, Samaha, Frederick F
Background Social support can influence treatment adherence of patients with chronic illnesses, which may explain the positive effects of social support on heart failure (HF) outcomes. Purpose To investigate the effects of social support among patients with HF, we examined whether aspects of social support were associated with self-care, including medication adherence, dietary adherence, and HF symptom monitoring functions. Methods We recruited 74 patients with HF from cardiology clinics of a Veterans Affairs Medical Center and a university-affiliated hospital, and tested the relationships between social support and the patients' self-care. Results Consistent with previous research in older adults, family members, especially spouses, were often involved in the medical care of patients with chronic HF and provided a range of levels of support to patients. Self-care was generally poor, as measured across several self-care domains. Perceived social support was moderately associated with relatively better self-reported medication and dietary adherence, and other aspects of self-care such as daily weighing. Conclusions These findings suggest that a relatively higher level of self-care is an important correlate of social support and may explain how social support influences HF outcomes. This study also suggests that family members should play a greater part in clinical care focused on improving self-care.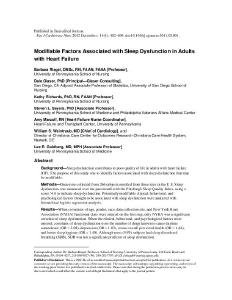 Modifiable Factors Associated With Sleep Dysfunction in Adults With Heart Failure
2012-12-01, Riegel, Barbara
Background: Sleep dysfunction contributes to poor quality of life in adults with heart failure (HF). The purpose of this study was to identify factors associated with sleep dysfunction that may be modifiable. Methods: Data were collected from 266 subjects enrolled from three sites in the U.S. Sleep dysfunction was measured over the past month with the Pittsburgh Sleep Quality Index, using a score > 10 to indicate sleep dysfunction. Potentially modifiable clinical, behavioral, and psychological factors thought to be associated with sleep dysfunction were analyzed with hierarchical logistic regression analysis. Results: When covariates of age, gender, race, data collection site, and New York Heart Association (NYHA) functional class were entered on the first step, only NYHA was a significant correlate of sleep dysfunction. When the clinical, behavioral, and psychological factors were entered, correlates of sleep dysfunction were the number of drugs known to cause daytime somnolence (OR = 2.08), depression (OR = 1.83), worse overall perceived health (OR = 1.64), and better sleep hygiene (OR = 1.40). Although most (54%) subjects had sleep disordered breathing (SDB), SDB was not a significant predictor of sleep dysfunction. Discussion: Factors associated with sleep dysfunction in HF include medications with sleepiness as a side-effect, depression, poorer health perceptions, and better sleep hygiene. Sleep dysfunction may motivate HF patients to address sleep hygiene. Eliminating medications with sleepiness as a side-effect, treating depression and perceptions of poor health may improve sleep quality in HF patients.
The Case for Enhanced Data Collection of Gun Type
2004-01-01, Richmond, Therese S, Branas, Charles, Cheney, Rose Ann, Schwab, C William
Background: National surveillance systems have differentiated long guns into rifles and shotguns but fail to do so for handgun type. We sought to determine whether specific gun type data could be collected and whether knowledge of specific gun types (rifle, shotgun, pistol, revolver) could be used to distinguish gun homicide victims with respect to important injury parameters such as number of wounds. Methods: Data on gun fatalities over a 5-year period in three communities were abstracted from medical examiner/coroner, police, and crime laboratory records. Results: Gun type was obtained for 92% of 490 guns linked to 405 gun homicides. Handguns were associated with more wounds per gun than long guns (p = 0.001) and more entry wounds per gun than long guns (p = 0.002). Among handguns, pistols were associated with more wounds per gun (p < 0.001) and entry wounds per gun (p = 0.001) than revolvers. These same associations were not found among specific long gun types (i.e., rifles and shotguns). Conclusion: Our findings demonstrate that information about gun type can be obtained and that significant differences exist in wounds per gun between long guns and handguns and between pistols and revolvers. Classification of long guns into rifles and shotguns and handguns into pistols and revolvers should be included in local, regional, and national data collection systems.