Interdisciplinary Centers, Units, and Projects
Search results
Now showing
1 - 10 of 3446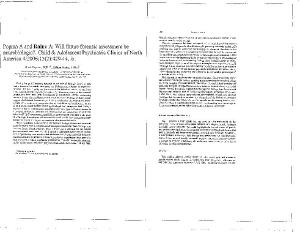 Will Future Forensic Assessment Be Neurobiologic?
2006-04-01, Popma, Arne, Raine, Adrian
During the past 2 decades, research on the role of biologic factors in antisocial behavior has made vast progress. This article discusses recent findings and their possible implications for future forensic assessment and treatment. In addition, some relevant philosophical, ethical, and political questions are brought forward.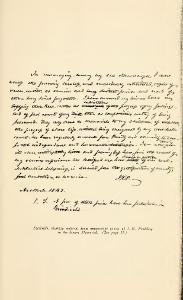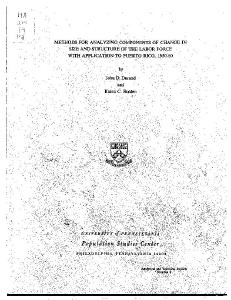 Methods For Analyzing Components Of Change In Size And Structure Of The Labor Force With Application To Puerto Rico, 1950-60
1969-09-01, Durand, John D., Holden, Karen C.
The increase or decrease of a country's labor force during a given period of time can be factored into the following components: A. Loss by death of labor force members. B. Net gain or loss by immigration and emigration of labor force members. C. Gain by entry into the labor force of individuals from the economically inactive population. D. Loss by retirement from the labor force into economically inactive status (including involuntary withdrawal on account of disability or for other reasons, as well as voluntary retirement). Likewise the change in number of workers attached to a given occupation or industry group of the labor force can be factored into the same four components, plus the fifth component: E. Net gain or loss by occupational or industrial mobility, i. e. transfers of labor force members from one occupation or industry to another. It is useful to subdivide components C and D as follows: C1 and D1. Labor force entries and retirements which would correspond to the maintenance of unchanging age-specific rates of entry and retirement (in the labor force as a whole and in given occupation or industry categories). C2 and D2. Entries and retirements due to changes during the period in the age-specific entry and retirement rates. The sum of components A, C1, and D1 can be considered as a measure of "natural increase" in the labor force as a whole or a given occupation or industry. This is the increase which would result from natural increase of the population and associated changes in its age structure without migration and without occupational or industrial mobility. Components B, C2, D2 and E are media through which the natural increase is modified under the influence of supply and demand factors.
Engaging Students Through Technology Symposium 2013 Student Panel: Dorm Room Diplomacy
2013-10-01, Levine, Zach, Lamas, Andy
The 2013 symposium explored ways through which courseware and online learning technologies can help us improve face-to-face time in the classroom. Guiding questions included: How can technology change what happens in the classroom? How can we best use our face-to-face time with students? How can we support all learners during face-to-face time? How can we ensure that students do what is needed out of class to be fully prepared during class?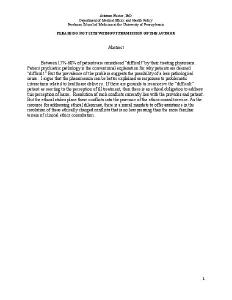 The "Difficult" Patient Reconceived: An Expanded Moral Mandate for Clinical Ethics
2012-05-01, Fiester, Autumn
Between 15%-60% of patients are considered "difficult" by their treating physicians. Patient psychiatric pathology is the conventional explanation for why patients are deemed "difficult." But the prevalence of the problem suggests the possibility of a less pathological cause. I argue that the phenomenon can be better explained as responses to problematic interactions related to healthcare delivery. If there are grounds to reconceive the "difficult" patient as reacting to the perception of ill treatment, then there is an ethical obligation to address this perception of harm. Resolution of such conflicts currently lies with the provider and patient. But the ethical stakes place these conflicts into the province of the ethics consult service. As the resource for addressing ethical dilemmas, there is a moral mandate to offer assistance in the resolution of these ethically charged conflicts that is no less pressing than the more familiar terrain of clinical ethics consultation.
2015-12-01, Ghrist, Robert
In this series, you will find video assets for all video assets from the massive, open, online course, Calculus: Single Variable. The course is taught by Robert Ghrist of the University of Pennsylvania.