Graduate School of Education
At the University of Pennsylvania Graduate School of Education, we are here for change. We're here because we believe in the power of education to build communities, bridge barriers, improve lives, and heal society. Here, we convene an ambitious and diverse community of leaders and pioneers, connecting them to one another and to a world that will benefit from their work. We equip them with immersive, real-world-based learning and research opportunities that bring them results. And we mobilize them to fulfill the promise of education in the classrooms, boardrooms, governments, and learning settings where true innovation and real transformation become possible. We offer vibrant array of high-quality master's and doctoral degree programs.
Search results
Now showing
1 - 10 of 1619
The Illusion Of Inclusion: Curricular Possibilities Amidst A Homonational Project
2017-01-01, Kokozos, Michael J., Nelson Flores
In recent years, the LGBTQ community in the United States experienced many policy changes. Certain political advancements, which promise newfound protections and rights for LGBTQ individuals, might be considered an exceptional accomplishment toward inclusion. There is a lack of research, however, as to how this model of inclusion underpinned by heteronormativity and its appendage, homonormativity, which typically privileges white, well-to-do gay men, is incorporated into curricular resources and the ways in which these depictions and manifestations tie to national interests. As more resources become available to address LGBTQ issues, especially in schools, it is imperative to examine the practices by which these ostensibly progressive approaches may unintentionally reinforce the optimization of some LGBTQ students' well-being to the detriment of other LGBTQ students – often along intersecting axes of race, gender, sexuality, and class. In particular, an area that warrants scrutiny concerns relations of power that inform conceptualizations of national LGBTQ "inclusion." This project investigates what types of subjectivities LGBTQ curricular resources (re)produce and how these resources can also resist LGBTQ normativities. By applying a theoretical framework critical of inclusion to mainstream examples of LGBTQ curricular resources, I expose current and emerging approaches to LGBTQ inclusion as limited or exclusionary practices, reinscriptions of existing oppressive power structures, and part of a much larger project, homonationalism, which transform homonormative subjects into model members of the country. I conclude by offering educators suggestions to further "undo" homonationalism, as they, alongside their students, contemplate curricular and pedagogical possibilities for challenging the notion that there is an exemplary mode of being in the classroom and the world.
A Look Into the Bridges to the Future Initiative in India
A look into the Bridges to the Future Initiative.
Ventriloquating Shakespeare: Ethical Positioning in Classroom Literature Discussions
2001-10-01, Wortham, Stanton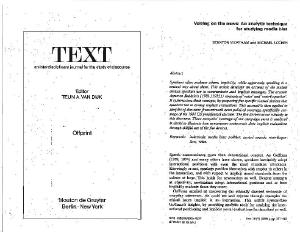 Voicing on the News: An Analytic Technique for Studying Media Bias
1996-10-01, Wortham, Stanton, Locher, Michael
Speakers often evaluate others, implicitly, while apparently speaking in a neutral way about them. This article develops an account of the textual devices speakers use to communicate such implicit messages. The account draws on Bakhtin's (1981[1935]) concepts of 'voice' and 'ventriloquation.' It systematizes these concepts, by proposing five specific textual devices that speakers use to convey implicit evaluations. This account is then applied to samples of discourse from network news political coverage, specifically coverage of the 1992 US presidential election. The five devices occur robustly in this discourse. Three networks' coverage of one campaign event is analyzed in detail to illustrate how newscasters orchestrate their implicit evaluations through skillful use of the five devices.
Providing Comprehensive Educational Opportunity to Low-Income Students: What are the Social and Economic Returns?
2011-01-01, Belfield, Clive R, Hollands, Fiona M, Levin, Henry M
This report estimates the economic costs and benefits attributable to a single cohort of 37,000 12th grade students in New York City public schools who come from families with incomes below 185% FPL. It calculates the net fiscal contributions by education level per individual. These contributions are tax revenues, minus government expenditures on healthcare, the criminal justice system, welfare programs, and school/college. The report also calculates the social impact of different educational attainment levels including the benefits of income gains, economic spillovers, reductions in crime, and improvements in health as education level increases.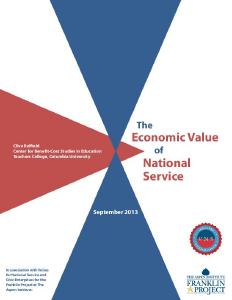 The Economic Value of National Service
2013-09-01, Belfield, Clive R.
In this report we calculate social and taxpayer benefits of national service using current data and including a wider array of gains across a range of different programs. We use national datasets and existing studies of the association between service, education, and long-term impacts to calculate the economic value of national service programs.