Weitzman School of Design
The University of Pennsylvania Stuart Weitzman School of Design prepares students to address complex sociocultural and environmental issues through thoughtful inquiry, creative expression, and innovation. As a diverse community of scholars and practitioners, we are committed to advancing the public good–both locally and globally–through art, design, planning, and preservation.
Search results
Now showing
1 - 10 of 865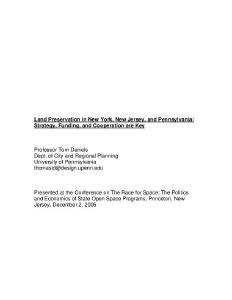 Land Preservation in New York, New Jersey, and Pennsylvania: Strategy, Funding, and Cooperation are Key
2005-12-02, Daniels, Thomas L.
Land use planning in America has traditionally meant "planning for development." Over the past 25 years, hundreds of communities and several states have recognized the need to preserve land for farming, forestry, watershed protection, wildlife habitat, recreation areas, or open space. A common problem is that public planners have not clearly delineated certain lands for preservation. Meanwhile, non-profit organizations have not fully perceived themselves as land use planning agencies (Wright and Czerniak 2000); and have often pursued a piecemeal and reactive preservation strategy in response to weak local zoning and the swift pace of development (McQueen and McMahon 2003). Thus, in most places in America, including New York, New Jersey, and Pennsylvania, privately owned open land seems to be at once for sale for development and available for preservation. The competition to preserve or develop land causes considerable friction between developers and land preservationists. Meanwhile, governments have a schizophrenic relationship to land: they want to see it developed so the tax base will increase and the economy will grow, yet they are also active in preserving land.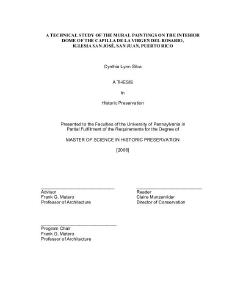 A Technical Study of the Mural Paintings of the Interior Dome of the Capilla de la Virgen del Rosario, Iglesia San José, San Juan, Puerto Rico
2006-01-01, Silva, Cynthia L
This is a technical study of the extant murals of the 17th Capilla de la Virgen del Rosario located within Iglesia San José, San Juan, Puerto Rico. The primary objectives of this investigation were to: document existing mural campaigns, establish a chronology of mural painting through analysis of materials and techniques, evaluate the conditions of the paintings and to determine possible deterioration mechanisms, and propose recommendations for their conservation and interpretation. In-situ documentation including color digital photography, extensive field notes, and mapping of visible painting campaigns were conducted. This was followed by a materials analysis of select campaigns' substrate, binders, and pigments. Test methods included gravimetric analysis and XRD of substrate plasters, examination of cross-sections and pigment dispersions, EDS analysis of pigments, and FTIR analysis of binders. The results of this study found six distinct mural campaigns and established a chronology which attributed painting phases to the Dominican, Jesuit, and Vincention orders of the Catholic Church. Notable iconography include the 17th century mer creatures (la serena), and the mid-19th century depiction of the Battle of Lepanto. Substrate analysis revealed a lean plaster mix in the enfoscado as an intrinsic cause of failure, further aggravated by continued water infiltration. Water ingress has created an environment supporting threatening deterioration mechanisms including abundant chloride salts, and biological growth contributing to failing paint layers and plasters. The Rosario Chapel murals are highly significant and warrant a comprehensive strategy for their conservation and interpretation through a collaborative process involving all stakeholders.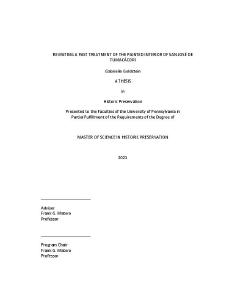 Revisiting a Past Treatment of the Painted Interior of San José de Tumacácori
2021-01-01, Goldstein, Gabrielle
This thesis analyzes the 1949 treatment of the painted plaster using polyvinyl acetate (PVAC), in the interior at the Mission Church of San José de Tumacácori. The treatment was proposed by Rutherford Gettens of the Fogg Museum and executed by Charlie Steen of the National Park Service. The PVAC was sprayed over the entire interior in order to consolidate the painted surface. The PVAC used was specifically Vinylite A, which was produced by Union Carbide. Since 2014, the Center for Architectural Conservation has been performing stabilization treatments to the interior plaster; however, the PVAC treatment has never been closely examined. The ramifications of the PVAC treatment were assessed using a combination of analytical and experimental methods. The painted decoration, which was intended to be matte in luster, now has a gloss; thus it is evident that there were ramifications of the treatment. Further analysis examines how the treatment effected the physical properties of the scratch coat, plaster, and pigment. Findings from this thesis can guide the National Park Service on future in-situ assessments of the Church plasters.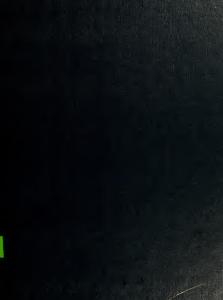 Pennsbury Manor: A Study in Colonial Revival Preservation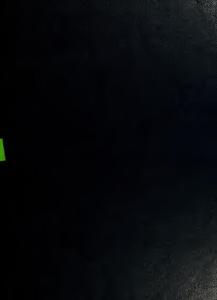 Preservation of Historic Interiors: Retaining Fixtures in Significant Buildings
1997, Ávila, Xavier Robert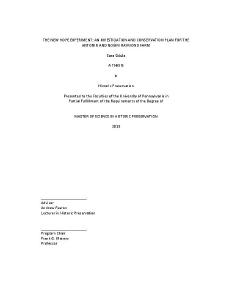 The New Hope Experiment: An Investigation and Conservation Plan for the Antonin and Noémi Raymond Farm
This thesis is the first investigation of the material fabric of the Raymond Farm Center for Living Arts and Design, a 1730s Quaker fieldstone farm house located in New Hope, PA that was synthesized with Japanese and Modernist elements by the architect/designer couple Antonin and Noémi Raymond in 1939. After nearly two decades of successful practice in Japan becoming some of the main proponents for modern architecture, the Raymonds returned to America in 1938 and purchased the 150-acre farm. In their renovations, they synthesized the Quaker architectural elements with cedar panels, sliding fusuma doors and shoji screens among other Japanese features. In this building the Raymonds took on apprentices and functioned as a design atelier in which the apprentices would tackle real-world design in the drafting room as well as assist with work on the farm, which was later titled "The New Hope Experiment". It was here that the Raymonds first experimented with the combination of vernacular architecture and Japanese-inspired modernism. The initial investigation in this work was conducted with the goal of analyzing and understanding the site through a survey of the extant building fabric by utilizing archival sources, building archaeology, and conservation science to create a comprehensive building chronology and condition assessment with prioritized treatment recommendations. The recommendations presented are in line with modern conservation values as well as the non-profit organization's mission to create a physical and mental environment that promotes creativity in the spirit of Antonin and Noémi Raymond.