Penn Dental Medicine
Established in 1878, Penn Dental Medicine is among the oldest university-affiliated dental schools in the nation. The school's mission is to transform global oral health and well-being through exceptional clinical care, innovation, education, and research.
Search results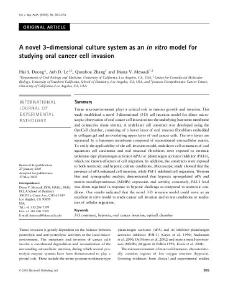 A Novel 3-Dimensional Culture System as an In Vitro Model for Studying Oral Cancer Cell Invasion
2005-12-01, Duong, Hai S, Le, Anh D, Zhang, Qunzhou, Messadi, Diana V
Tissue microenvironment plays a critical role in tumour growth and invasion. This study established a novel 3-dimensional (3-D) cell invasion model for direct microscopic observation of oral cancer cell invasion into the underlying basement membrane and connective tissue stroma. A multilayer cell construct was developed using the OptiCell chamber, consisting of a lower layer of oral mucosa fibroblasts embedded in collagen gel and an overlaying upper layer of oral cancer cells. The two layers are separated by a basement membrane composed of reconstituted extracellular matrix. To verify the applicability of the cell invasion model, multilayer cell constructs of oral squamous cell carcinoma and oral mucosal fibroblasts were exposed to extrinsic urokinase-type plasminogen activator (uPA) or plasminogen activator inhibitor (PAI-1), which are known effectors of cell migration. In addition, the constructs were exposed to both normoxic and hypoxic culture conditions. Microscopic study showed that the presence of uPA enhanced cell invasion, while PAI-1 inhibited cell migration. Western blot and zymographic analysis demonstrated that hypoxia up-regulated uPA and matrix metalloproteinases (MMPs) expression and activity; conversely, PAI-1 level was down-regulated in response to hypoxic challenge as compared to normoxic condition. Our results indicated that the novel 3-D invasion model could serve as an excellent in vitro model to study cancer cell invasion and to test conditions or mediators of cellular migration. © 2005 Blackwell Publishing Ltd.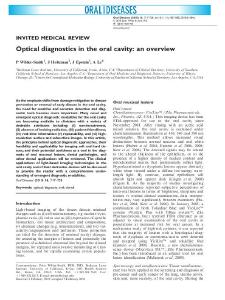 Optical Diagnostics in the Oral Cavity: An Overview
2010-11-01, Wilder-Smith, P, Holtzman, J, Epstein, J, Le, A
As the emphasis shifts from damage mitigation to disease prevention or reversal of early disease in the oral cavity, the need for sensitive and accurate detection and diagnostic tools become more important. Many novel and emergent optical diagnostic modalities for the oral cavity are becoming available to clinicians with a variety of desirable attributes including: (i) non-invasiveness, (ii) absence of ionizing radiation, (iii) patient-friendliness, (iv) real-time information (v) repeatability, and (vi) high-resolution surface and subsurface images. In this article, the principles behind optical diagnostic approaches, their feasibility and applicability for imaging soft and hard tissues, and their potential usefulness as a tool in the diagnosis of oral mucosal lesions, dental pathologies, and other dental applications will be reviewed. The clinical applications of light-based imaging technologies in the oral cavity and of their derivative devices will be discussed to provide the reader with a comprehensive understanding of emergent diagnostic modalities. © 2010 John Wiley & Sons A/S.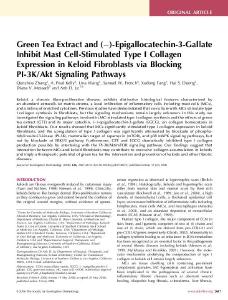 Green Tea Extract and (−)-Epigallocatechin-3-Gallate Inhibit Mast Cell-Stimulated Type I Collagen Expression in Keloid Fibroblasts via Blocking PI-3K/Akt Signaling Pathways
2006-12-01, Zhang, Qunzhou, Paul, A Kelly, Wang, Lina, French, Samuel W, Tang, Xudong, Duong, Hai S, Messadi, Diana V, Le, Anh D
Keloid, a chronic fibro-proliferative disease, exhibits distinctive histological features characterized by an abundant extracellular matrix stroma, a local infiltration of inflammatory cells including mast cells (MCs), and a milieu of enriched cytokines. Previous studies have demonstrated that co-culture with MCs stimulate type I collagen synthesis in fibroblasts, but the signaling mechanisms remain largely unknown. In this study, we investigated the signaling pathways involved in MC-stimulated type I collagen synthesis and the effects of green tea extract (GTE) and its major catechin, (-)-epigallocatechin-3-gallate (EGCG), on collagen homeostasis in keloid fibroblasts. Our results showed that MCs significantly stimulated type I collagen expression in keloid fibroblasts, and the upregulation of type I collagen was significantly attenuated by blockade of phosphatidylinositol-3-kinase (PI-3K), mammalian target of rapamycin (mTOR), and p38 MAPK signaling pathways, but not by blockade of ERK1/2 pathway. Furthermore, GTE and EGCG dramatically inhibited type I collagen production possibly by interfering with the PI-3K/Akt/mTOR signaling pathway. Our findings suggest that interaction between MCs and keloid fibroblasts may contribute to excessive collagen accumulation in keloids and imply a therapeutic potential of green tea for the intervention and prevention of keloids and other fibrotic diseases. © 2006 The Society for Investigative Dermatology.
CDKN2B Upregulation Prevents Teratoma Formation in Multipotent Fibromodulin-Reprogrammed Cells
2019-08-01, Zheng, Zhong, Li, Chenshuang, Ha, Pin, Chang, Grace X., Yang, Pu, Zhang, Xinli, Kim, Jong Kil, Jiang, Wenlu, Pang, Xiaoxiao, Berthiaume, Emily A., Mills, Zane, Haveles, Christos S., Chen, Eric, Tine, Kang, Soo, Chia
Tumorigenicity is a well-documented risk to overcome for pluripotent or multipotent cell applications in regenerative medicine. To address the emerging demand for safe cell sources in tissue regeneration, we established a novel, protein-based reprogramming method that does not require genome integration or oncogene activation to yield multipotent fibromodulin (FMOD)-reprogrammed (FReP) cells from dermal fibroblasts. When compared with induced pluripotent stem cells (iPSCs), FReP cells exhibited a superior capability for bone and skeletal muscle regeneration with markedly less tumorigenic risk. Moreover, we showed that the decreased tumorigenicity of FReP cells was directly related to an upregulation of cyclin-dependent kinase inhibitor 2B (CDKN2B) expression during the FMOD reprogramming process. Indeed, sustained suppression of CDKN2B resulted in tumorigenic, pluripotent FReP cells that formed teratomas in vivo that were indistinguishable from iPSC-derived teratomas. These results highlight the pivotal role of CDKN2B in cell fate determination and tumorigenic regulation and reveal an alternative pluripotent/multipotent cell reprogramming strategy that solely uses FMOD protein. © 2019, American Society for Clinical Investigation.
Neural Progenitor-like Cells Induced from Human Gingiva-derived Mesenchymal Stem Cells Regulate Myelination of Schwann Cells in Rat Sciatic Nerve Regeneration
2017-02-01, Zhang, Qunzhou, Nguyen, Phuong, Xu, Qilin, Park, Wonse, Lee, Sunim, Furuhashi, Akihiro, Le, Anh D
Regeneration of peripheral nerve injury remains a major clinical challenge. Recently, mesenchymal stem cells (MSCs) have been considered as potential candidates for peripheral nerve regeneration; however, the underlying mechanisms remain elusive. Here, we show that human gingiva-derived MSCs (GMSCs) could be directly induced into multipotent NPCs (iNPCs) under minimally manipulated conditions without the introduction of exogenous genes. Using a crush-injury model of rat sciatic nerve, we demonstrate that GMSCs transplanted to the injury site could differentiate into neuronal cells, whereas iNPCs could differentiate into both neuronal and Schwann cells. After crush injury, iNPCs, compared with GMSCs, displayed superior therapeutic effects on axonal regeneration at both the injury site and the distal segment of the injured sciatic nerve. Mechanistically, transplantation of GMSCs, especially iNPCs, significantly attenuated injury-triggered increase in the expression of c-Jun, a transcription factor that functions as a major negative regulator of myelination and plays a central role in dedifferentiation/reprogramming of Schwann cells into a progenitor-like state. Meanwhile, our results also demonstrate that transplantation of GMSCs and iNPCs consistently increased the expression of Krox-20/EGR2, a transcription factor that governs the expression of myelin proteins and facilitates myelination. Altogether, our findings suggest that transplantation of GMSCs and iNPCs promotes peripheral nerve repair/regeneration, possibly by promoting remyelination of Schwann cells mediated via the regulation of the antagonistic myelination regulators, c-Jun and Krox-20/EGR2. © AlphaMed Press, 2016 The Authors.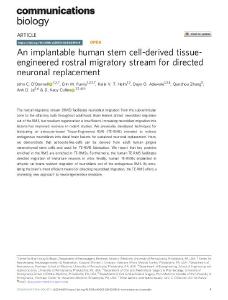 An Implantable Human Stem cell-derived Tissue-engineered Rostral Migratory Stream for Directed Neuronal Replacement
2021-12-01, O'Donnell, John C, Purvis, Erin M, Helm, Kaila VT, Adewole, Dayo O, Zhang, Qunzhou, Le, Anh D, Cullen, Kacy D
The rostral migratory stream (RMS) facilitates neuroblast migration from the subventricular zone to the olfactory bulb throughout adulthood. Brain lesions attract neuroblast migration out of the RMS, but resultant regeneration is insufficient. Increasing neuroblast migration into lesions has improved recovery in rodent studies. We previously developed techniques for fabricating an astrocyte-based Tissue-Engineered RMS (TE-RMS) intended to redirect endogenous neuroblasts into distal brain lesions for sustained neuronal replacement. Here, we demonstrate that astrocyte-like-cells can be derived from adult human gingiva mesenchymal stem cells and used for TE-RMS fabrication. We report that key proteins enriched in the RMS are enriched in TE-RMSs. Furthermore, the human TE-RMS facilitates directed migration of immature neurons in vitro. Finally, human TE-RMSs implanted in athymic rat brains redirect migration of neuroblasts out of the endogenous RMS. By emulating the brain's most efficient means for directing neuroblast migration, the TE-RMS offers a promising new approach to neuroregenerative medicine. © 2021, This is a U.S. Government work and not under copyright protection in the US; foreign copyright protection may apply.