Penn Dental Medicine
Established in 1878, Penn Dental Medicine is among the oldest university-affiliated dental schools in the nation. The school's mission is to transform global oral health and well-being through exceptional clinical care, innovation, education, and research.
Search results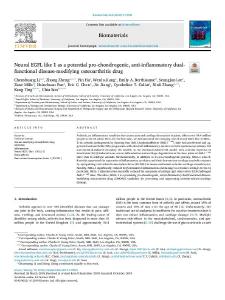 Neural EGFL Like 1 as a Potential Pro-Chondrogenic, Anti-Inflammatory Dual-Functional Disease-Modifying Osteoarthritis Drug
2020-01-01, Li, Chenshuang, Zheng, Zhong, Ha, Pin, Jiang, Wenlu, Berthiaume, Emily A., Lee, Seungjun, Mills, Zane, Pan, Hsinchuan, Chen, Eric C., Jiang, Jie, Culiat, Cymbaline T., Zhang, Xinli, Ting, Kang, Soo, Chia
Arthritis, an inflammatory condition that causes pain and cartilage destruction in joints, affects over 54.4 million people in the US alone. Here, for the first time, we demonstrated the emerging role of neural EGFL like 1 (NELL-1) in arthritis pathogenesis by showing that Nell-1-haploinsufficient (Nell-1+/6R) mice had accelerated and aggravated osteoarthritis (OA) progression with elevated inflammatory markers in both spontaneous primary OA and chemical-induced secondary OA models. In the chemical-induced OA model, intra-articular injection of interleukin (IL)1β induced more severe inflammation and cartilage degradation in the knee joints of Nell-1+/6R mice than in wildtype animals. Mechanistically, in addition to its pro-chondrogenic potency, NELL-1 also effectively suppressed the expression of inflammatory cytokines and their downstream cartilage catabolic enzymes by upregulating runt-related transcription factor (RUNX)1 in mouse and human articular cartilage chondrocytes. Notably, NELL-1 significantly reduced IL1β-stimulated inflammation and damage to articular cartilage in vivo. In particular, NELL-1 administration markedly reduced the symptoms of antalgic gait observed in IL1β-challenged Nell-1+/6R mice. Therefore, NELL-1 is a promising pro-chondrogenic, anti-inflammatory dual-functional disease-modifying osteoarthritis drug (DMOAD) candidate for preventing and suppressing arthritis-related cartilage damage. © 2019 Elsevier Ltd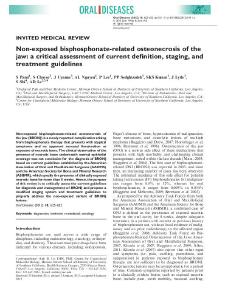 Non-exposed Bisphosphonate-related Osteonecrosis of the Jaw: A Critical Assessment of Current Definition, Staging, and Treatment Guidelines
2012-10-01, Patel, S, Choyee, S, Uyanne, J, Nguyen, A L, Lee, P, Sedghizadeh, P P, Kumar, S K S, Lytle, J, Shi, S, Le, A D
Non-exposed bisphosphonate-related osteonecrosis of the jaw (BRONJ) is a newly reported complication arising from bisphosphonate therapy that presents with atypical symptoms and no apparent mucosal fenestration or exposure of necrotic bone. The clinical observation of the presence of necrotic bone underneath normal epithelial coverage was not conclusive for the diagnosis of BRONJ based on current guidelines established by the American Association of Oral and Maxillofacial Surgeons (AAOMS) and the American Society for Bone and Mineral Research (ASBMR), which specify the presence of clinically exposed necrotic bone for more than 8weeks. Hence, the purpose of this review is to critically assess the current guidelines for diagnosis and management of BRONJ and propose a modified staging system and treatment guidelines to properly address the non-exposed variant of BRONJ lesions. © 2012 John Wiley & Sons A/S.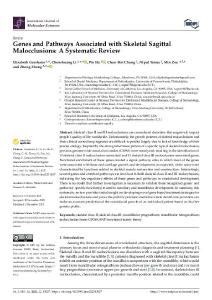 Genes and Pathways Associated with Skeletal Sagittal Malocclusions: A Systematic Review
2021-12-01, Gershater, Elizabeth, Li, Chenshuang, Ha, Pin, Chung, Chun-Hsi, Tanna, Nipul, Zou, Min, Zheng, Zhong
Skeletal class II and III malocclusions are craniofacial disorders that negatively impact people's quality of life worldwide. Unfortunately, the growth patterns of skeletal malocclusions and their clinical correction prognoses are difficult to predict largely due to lack of knowledge of their precise etiology. Inspired by the strong inheritance pattern of a specific type of skeletal malocclusion, previous genome-wide association studies (GWAS) were reanalyzed, resulting in the identification of 19 skeletal class II malocclusion-associated and 53 skeletal class III malocclusion-associated genes. Functional enrichment of these genes created a signal pathway atlas in which most of the genes were associated with bone and cartilage growth and development, as expected, while some were characterized by functions related to skeletal muscle maturation and construction. Interestingly, several genes and enriched pathways are involved in both skeletal class II and III malocclusions, indicating the key regulatory effects of these genes and pathways in craniofacial development. There is no doubt that further investigation is necessary to validate these recognized genes' and pathways' specific function(s) related to maxillary and mandibular development. In summary, this systematic review provides initial insight on developing novel gene-based treatment strategies for skeletal malocclusions and paves the path for precision medicine where dental care providers can make an accurate prediction of the craniofacial growth of an individual patient based on his/her genetic profile. © 2021 by the authors. Licensee MDPI, Basel, Switzerland.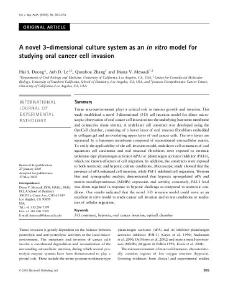 A Novel 3-Dimensional Culture System as an In Vitro Model for Studying Oral Cancer Cell Invasion
2005-12-01, Duong, Hai S, Le, Anh D, Zhang, Qunzhou, Messadi, Diana V
Tissue microenvironment plays a critical role in tumour growth and invasion. This study established a novel 3-dimensional (3-D) cell invasion model for direct microscopic observation of oral cancer cell invasion into the underlying basement membrane and connective tissue stroma. A multilayer cell construct was developed using the OptiCell chamber, consisting of a lower layer of oral mucosa fibroblasts embedded in collagen gel and an overlaying upper layer of oral cancer cells. The two layers are separated by a basement membrane composed of reconstituted extracellular matrix. To verify the applicability of the cell invasion model, multilayer cell constructs of oral squamous cell carcinoma and oral mucosal fibroblasts were exposed to extrinsic urokinase-type plasminogen activator (uPA) or plasminogen activator inhibitor (PAI-1), which are known effectors of cell migration. In addition, the constructs were exposed to both normoxic and hypoxic culture conditions. Microscopic study showed that the presence of uPA enhanced cell invasion, while PAI-1 inhibited cell migration. Western blot and zymographic analysis demonstrated that hypoxia up-regulated uPA and matrix metalloproteinases (MMPs) expression and activity; conversely, PAI-1 level was down-regulated in response to hypoxic challenge as compared to normoxic condition. Our results indicated that the novel 3-D invasion model could serve as an excellent in vitro model to study cancer cell invasion and to test conditions or mediators of cellular migration. © 2005 Blackwell Publishing Ltd.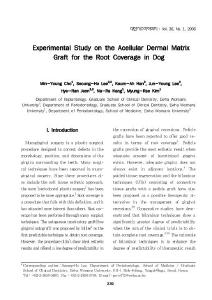 Experimental Study on the Acellular Demal Matrix Graft for the Root Coverage in Dog
2006-03-01, Cho, Min-Young, Lee, Seoung-Ho, Han, Keum-Ah, Jeon, Hyeran H, Jeon, Hyeran H, Kang, Na-Ra, Kim, Myung-Rae
Mucogingival surgery is a plastic surgical procedure designed to correct defects in the morphology, position, and dimensions of the gingiva surrounding the teeth. Many surgical techniques have been reported in mucogingival surgery. Since these procedures also include the soft tissue esthetic approach, the term "periodontal plastic surgery" has been proposed to be more appropriate.1 Root coverage is a procedure that falls with this definition, and it has attracted more interest than others.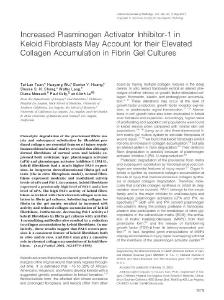 Mechanisms of Hypoxic Regulation of Plasminogen Activator Inhibitor-1 Gene Expression in Keloid Fibroblasts
2003-11-01, Zhang, Qunzhou, Wu, Yidi, Ann, David K., Messadi, Diana V., Tuan, Tai-Lan, Kelly, A. Paul, Bertolami, Charles N., Le, Anh D
Keloids are an excessive accumulation of extracellular matrix. Although numerous studies have shown elevated plasminogen activator inhibitor-1 (PAI-1) levels in keloid fibroblasts compared with those of normal skin. Their specific mechanisms involved in the differential expression of PAI-1 in these cell types. In this study, the upregulation of PAI-1 expression is demonstrated in keloid tissues and their derived dermal fibroblasts, attesting to the persistence, if any, of fundamental differences between in vivo and in vitro paradigms. We further examined the mechanisms involved in hypoxia-induced regulation of PAI-1 gene in dermal fibroblast derived from keloid lesions and associated clinically normal peripheral skins from the same patient. Primary cultures were exposed to an environmental hypoxia or desferroxamine. We found that the hypoxia-induced elevation of PAI-1 gene appears to be regulated at both transcriptional and post-transcriptional levels in keloid fibroblasts. Furthermore, our results showed a consistent elevation of HIF-1α protein level in keloid tissues compared with their normal peripheral skin controls, implying a potential role as a biomarker for local skin hypoxia. Treatment with antisense oligonucleotides against hypoxia-inducible factor 1α (HIF-1α) led to the downregulation of steady-state levels of PAI-1 mRNA under both normoxic and hypoxic conditions. Conceivably, our results suggest that HIF-1α may be a novel therapeutic target to modulate the scar fibrosis process.