Penn Dental Medicine
Established in 1878, Penn Dental Medicine is among the oldest university-affiliated dental schools in the nation. The school's mission is to transform global oral health and well-being through exceptional clinical care, innovation, education, and research.
Search results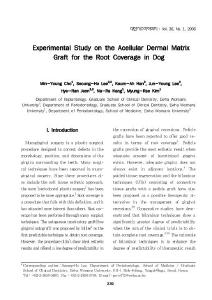 Experimental Study on the Acellular Demal Matrix Graft for the Root Coverage in Dog
2006-03-01, Cho, Min-Young, Lee, Seoung-Ho, Han, Keum-Ah, Jeon, Hyeran H, Jeon, Hyeran H, Kang, Na-Ra, Kim, Myung-Rae
Mucogingival surgery is a plastic surgical procedure designed to correct defects in the morphology, position, and dimensions of the gingiva surrounding the teeth. Many surgical techniques have been reported in mucogingival surgery. Since these procedures also include the soft tissue esthetic approach, the term "periodontal plastic surgery" has been proposed to be more appropriate.1 Root coverage is a procedure that falls with this definition, and it has attracted more interest than others.
Signaling by EphrinB1 and Eph Kinases in Platelets Promotes Rap1 Activation, Platelet Adhesion, and Aggregation via Effector Pathways that Do Not Require Phosphorylation of EphrinB1
2004-02-15, Prévost, Nicolas, Woulfe, Donna S, Tanaka, Takako I, Tanaka, Takako I
We have previously shown that platelets express 2 receptor tyrosine kinases, EphA4 and EphB1, and the Eph kinase ligand, ephrinB1m and proposed that transcellular Eph/ephrin interactions made possible by the onset of platelet aggregation promote the further growth and stability of the hemostatic plug. The present study examines how this might occur. The results show that clustering of either ephrinB1 or EphA4 causes platelets to adhere to immobilized firinogen via αIIbβ3. Adhesion occurs more slowly than with adenosine diphosphate (ADP) abd requires phosphatidylinositol 3 (PI3)—kinase and protein kinase C activity but not ephrinB1 phosphorylation. By itself, Eph and ephrin signaling is insufficient to cause aggregation or the binding of soluble fibrinogen, but it can potentiate aggregation initiated by a Ca++ ionophore or by agonists for thrombin and thromboxane receptors. It also enhances Rap1 activation without requiring ADP secretion, ephrinB1 phosphorylation, or the activation of PI3-kinase and Src. From this we conclude that (1) Eph/ephrin signaling enhances the ability of platelet agonists to cause aggregation provided that those agonists can increase cytosolic Ca++; (2) this is accomplished in part by activating Rap1; and (3) these effects require not phosphotyrosine-based interactions with the ephrinB1 cytoplasmic domain.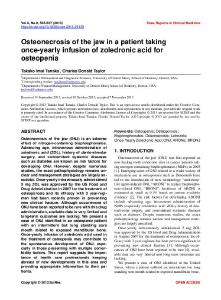 Osteonecrosis of the Jaw in a Patient Taking Once-Yearly Infusion of Zoledronic Acid for Osteopenia
2013-11-01, Tanaka, Takako I, Tanaka, Takako I, Taylor, Charles D
Osteonecrosis of the jaw (ONJ) is an adverse effect of nitrogen-containing bisphosphonates. Advancing age, intravenous administration of zoledronic acid (ZOL), history of dento-alveolar surgery, and concomitant systemic diseases such as diabetes are known as risk factors for developing ONJ. However, despite numerous studies, the exact pathophysiology remains unclear and management strategies are largely anecdotal. Once-yearly intravenously administered 5 mg ZOL was approved by the US Food and Drug Administration in 2007 for the treatment of osteoporosis and its efficacy with 3 year-regimen had been recently been proven in preventing new clinical fracture. Although occurrences of ONJ have been reported to be rare with this drug administration, available data is very limited and long-term outcomes are lacking. We present a case of ONJ identified in an osteopenic patient with an intermittent but long standing sore mouth related to exposed mandibular bone. Once-yearly infusion of zoledronic acid used in the treatment of osteopenia may contribute to the spontaneous development of ONJ, especially in those presenting with multiple comorbidity factors. This report suggests the importance of health care professionals keeping abreast of new developments in this area and providing appropriate information to their patients.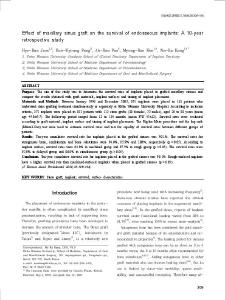 Effects of Maxillary Sinus Graft on the Survival of Endosseous Implants: A 10-Year Retrospective Study
2008-08-01, Jeon, Hyeran H, Jeon, Hyeran H, Pang, Eun-Kyoung, Pae, Ah-Ran, Kim, Myung-Rae, Kang, Na-Ra
Purpose: The aim of this study was to determine the survival rates of implants placed in grafted maxillary sinuses and compare the results obtained with graft materials, implant surfaces and timing of implant placement. Materials and Methods: Between January 1996 and December 2005, 391 implants are placed in 161 patients who underwent sinus grafting treatment simultaneously or separately at Ewha Womans University Hospital. According to inclusion critieria, 272 impants were placed in 102 patients with 112 sinus grafts (30 females, 72 males), aged 26 to 88 years (mean age 49.0±9.7). The follow-up period ranged from 12 to 134 months (mean F/U 47±32). Survival rates were evaluated according to graft material, implant surface and timing of implant placement, The Kaplan-Meier procedure and the log rank (Mantel-Cox) test were used to estimate survival rates and test for equality of survival rates between different groups of patients. Results: Ten-year cumultative survival rate for implants placed in the grafted sinuses was 90.1%. The survival rates for autogenous bone, combination and bone substitutes were 94.6%, 85.9% and 100% respectively (p>0.05). According to implant surface, survival rates were 84.8% in machined group and 97.5% in rough group (p0.05). Conclusion: Ten-year cumultative survival rate for implants placed in the grafter sinuses was 90.1% Rough-shaped implants have a higher survival rate than machined-surface implants when placed in grafted sinuses. (p<0.05).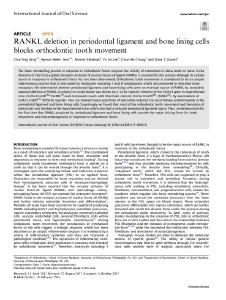 RANKL Deletion in Periodontal Ligament and Bone Lining Cells Blocks Orthodontic Tooth Movement
2018-02-26, Jeon, Hyeran H, Alshabab, Ahmed, Lee, Yu Jin, Chung, Chun-Hsi, Jeon, Hyeran H, Alshabab, Ahmed, Lee, Yu Jin, Chung, Chun-Hsi
The bone remodeling process in response to orthodontic forces requires the activity of osteoclasts to allow teeth to move in the direction of the force applied. Receptor activator of nuclear factor-κB ligand (RANKL) is essential for this process although its cellular source in response to orthodontic forces has not been determined. Orthodontic tooth movement is considered to be an aseptic inflammatory process that is stimulated by leukocytes inclduing T and B lymphocytes which are presumed to stimulate bone resorption. We determined whether periodontal ligament and bone lining cells were an essential source of RANKL by tamoxifen induced deletion of RANKL in which Cre recombinase was driven by a 3.2 kb reporter element of the Col1α1 gene in experimental mice (Col1α1.CreERTM+.RANKLf/f) and compared results with littermate controls (Col1α1.CreERTM-.RANKLf/f). By examination of Col1α1.CreERTM+.ROSA26 reporter mice we showed tissue specificity of tamoxifen induced Cre recombinase predominantly in the periodontal ligament and bone lining cells. Surprisingly we found that most of the orthodontic tooth movement and formation of osteoclasts was blocked in the experimental mice, which also had a reduced periodontal ligament space. Thus, we demonstrate for the first time that RANKL produced by periodontal ligament and bone lining cells provide the major driving force for tooth movement and osteoclastogenesis in response to orthodontic forces.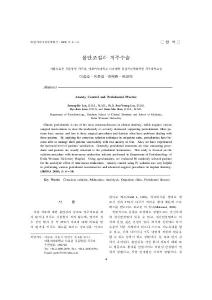 Anxiety Control and Periodontal Practice
2005-09-01, Lee, Seoung-Ho, Lee, Jun-Young, Jeon, Hyeran H, Jeon, Hyeran H, Han, Gum-Aha
Chronic periodontitis is one of the most common diseases in clinical dentistry, which requires various surgical interventions to treat the moderately to severely destructed supporting periodontium. Most patients have anxiety and fear to those surgical procedures and dentists often have problems dealing with those patients. By applying the conscious sedation technique in outpatient units, periodontists have become able to manage their patients successfully with less anxiety or fear. Also, we have experienced the increased level of patients' satisfaction. Generally, periodontal treatments are time consuming procedures and patients are usually reluctant to the periodontal instruments. This study is focused on the sedation procedure with intravenous midazolam infusion performed in Department of Periodontology of Ewha Womans University Hospital. Using questionnaires, we evaluated 80 randomly selected patients for the anxiolytic effect of intravenous midazolam. Anxiety control using IV sedation was very helpful in performing various periodontal reconstructive and advanced surgical procedures in implant dentistry.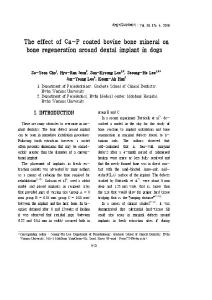 The Effect of Ca-P Coated Bovine Bone Mineral on Bone Regeneration around Dental Implant in Dogs
2006-12-01, Jeon, Hyeran H, Jeon, Hyeran H, Lee, Sun-Kyoung, Lee, Seoung-Ho, Lee, Jun-Young, Han, Keum-Ah
There are many obstacles to overcome in implant dentistry. The bony defect around implant can be seen in immediate installation procedures. Following tooth extraction, however, a socket often presents dimensions that may be considerably greater than the dimensions of a conventional implant.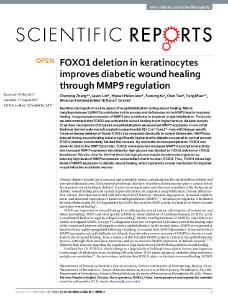 FOXO1 Deletion in Keratinocytes Improves Diabetic Wound Healing through MMP9 Regulation
2017-09-05, Jeon, Hyeran H, Lim, Jason, Jeon, Hyeran H, Xu, Fanxing, Tian, Chen, Graves, Dana T, Hameedaldeen, Alhassan, Graves, Dana T
Keratinocyte migration is a key aspect of re-epithelialization during wound healing. Matric metalloproteinase 9 (MMP9) contributes to this process and deificiencies in the MMP9 lead to impaired healing. Inappropriate expression of MMP9 also contributes to impaired re-epithelialization. Previously we demonstrated that FOXO1 was activated in wound healing but to higher levels in diabetic wounds. To address mechanisms of impaired re-epithelialization we examined MMP0 expression in vivo in full thickness dermal scalp wounds creared in experimental K14.Cre+.Foxo1L/L mice with lineage-specific Cre recombinase deletion of floxed FOXO1 and compared the results to control littermates. MMP9 was induced during wound healing but at a significantly higher level in diabetic compared to normal wounds. FOXO1 deletion substantially blocked this increase. By chromatin immunoprecipitation FOXO1 was shown to bind to the MMP9 promoter, FOXO1 overexpression increased MMP9 transcriptional activity and increased MMP9 expression simulated by high glucose that was blocked by FOXO1 deletion or FOXO1 knockdown. We also show for the first time that high glucose impairs keratinocyte migration by inducing high levels of MMP9 expression in diabetic wound healing, which represents a novel mechanism for impaired re-epithelialization in diabetic wounds.