Penn Dental Medicine
Established in 1878, Penn Dental Medicine is among the oldest university-affiliated dental schools in the nation. The school's mission is to transform global oral health and well-being through exceptional clinical care, innovation, education, and research.
Search results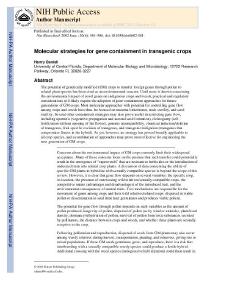 Molecular Strategies for Gene Containment in Transgenic Crops
2002-10-15, Daniell, Henry
The potential of genetically modified (GM) crops to transfer foreign genes through pollen to related plant species has been cited as an environmental concern. Until more is known concerning the environmental impact of novel genes on indigenous crops and weeds, practical and regulatory considerations will likely require the adoption of gene-containment approaches for future generations of GM crops. Most molecular approaches with potential for controlling gene flow among crops and weeds have thus far focused on maternal inheritance, male sterility, and seed sterility. Several other containment strategies may also prove useful in restricting gene flow, including apomixis (vegetative propagation and asexual seed formation), cleistogamy (self-fertilization without opening of the flower), genome incompatibility, chemical induction/deletion of transgenes, fruit-specific excision of transgenes, and transgenic mitigation (transgenes that compromise fitness in the hybrid). As yet, however, no strategy has proved broadly applicable to all crop species, and a combination of approaches may prove most effective for engineering the next generation of GM crops.
Release of Hormones from Conjugates: Chloroplast Expression of β-Glucosidase Results in Elevated Phytohormone Levels Associated with Significant Increase in Biomass and Protection from Aphids or Whiteflies Conferred by Sucrose Esters
2011-01-01, Jin, Shuangxia, Kanagaraj, Anderson, Verma, Dheeraj, Lange, Theo, Daniell, Henry
Transplastomic tobacco (Nicotiana tabacum) plants expressing β-glucosidase (Bgl-1) show modified development. They flower 1 month earlier with an increase in biomass (1.9-fold), height (1.5-fold), and leaf area (1.6-fold) than untransformed plants. Trichome density on the upper and lower leaf surfaces of BGL-1 plants increase by 10- and 7-fold, respectively, harboring 5-fold more glandular trichomes (as determined by rhodamine B staining), suggesting that BGL-1 lines produce more sugar esters than control plants. Gibberellin (GA) levels were investigated because it is a known regulator of flowering time, plant height, and trichome development. Both GA1 and GA4 levels are 2-fold higher in BGL-1 leaves than in untransformed plants but do not increase in other organs. In addition, elevated levels of other plant hormones, including zeatin and indole-3-acetic acid, are observed in BGL-1 lines. Protoplasts from BGL-1 lines divide and form calli without exogenous hormones. Cell division in protoplasts is enhanced 7-fold in the presence of exogenously applied zeatin-O-glucoside conjugate, indicating the release of active hormones from their conjugates. Whitefly (Bemisia tabaci) and aphid (Myzus persicae) populations in control plants are 18 and 15 times higher than in transplastomic lines, respectively. Lethal dose to kill 50% of the test population values of 26.3 and 39.2 μg per whitefly and 23.1 and 35.2 μg per aphid for BGL-1 and untransformed control exudates, respectively, confirm the enhanced toxicity of transplastomic exudates. These data indicate that increase in sugar ester levels in BGL-1 lines might function as an effective biopesticide. This study provides a novel strategy for designing plants for enhanced biomass production and insect control by releasing plant hormones or sugar esters from their conjugates stored within their chloroplasts.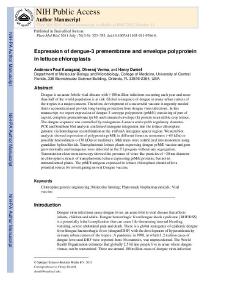 Expression of Dengue-3 Premembrane and Envelope Polyprotein in Lettuce Chloroplasts
2011-07-01, Kanagaraj, Anderson Paul, Verma, Dheeraj, Daniell, Henry
Dengue is an acute febrile viral disease with >100 million infections occurring each year and more than half of the world population is at risk. Global resurgence of dengue in many urban centers of the tropics is a major concern. Therefore, development of a successful vaccine is urgently needed that is economical and provide long-lasting protection from dengue virus infections. In this manuscript, we report expression of dengue-3 serotype polyprotein (prM/E) consisting of part of capsid, complete premembrane (prM) and truncated envelope (E) protein in an edible crop lettuce. The dengue sequence was controlled by endogenous Lactuca sativa psbA regulatory elements. PCR and Southern blot analysis confirmed transgene integration into the lettuce chloroplast genome via homologous recombination at the trnI/trnA intergenic spacer region. Western blot analysis showed expression of polyprotein prM/E in different forms as monomers (~65 kDa) or possibly heterodimers (~130 kDa) or multimers. Multimers were solubilized into monomers using guanidine hydrochloride. Transplastomic lettuce plants expressing dengue prM/E vaccine antigens grew normally and transgenes were inherited in the T1 progeny without any segregation. Transmission electron microscopy showed the presence of virus-like particles of ~20 nm diameter in chloroplast extracts of transplastomic lettuce expressing prM/E proteins, but not in untransformed plants. The prM/E antigens expressed in lettuce chloroplasts should offer a potential source for investigating an oral Dengue vaccine.
Expression of Fungal Cutinase and Swollenin in Tobacco Chloroplasts Reveals Novel Enzyme Functions and/or Substrates
2013-02-25, Verma, Dheeraj, Jin, Shuangxia, Kanagaraj, Anderson, Singh, Nameirakpam D., Daniel, Jaiyanth, Kolattukudy, Pappachan E., Miller, Michael, Daniell, Henry
In order to produce low-cost biomass hydrolyzing enzymes, transplastomic lines were generated that expressed cutinase or swollenin within chloroplasts. While swollenin expressing plants were homoplasmic, cutinase transplastomic lines remained heteroplasmic. Both transplastomic lines showed interesting modifications in their phenotype, chloroplast structure, and functions. Ultrastructural analysis of chloroplasts from cutinase- and swollenin-expressing plants did not show typical lens shape and granal stacks. But, their thylakoid membranes showed unique scroll like structures and chloroplast envelope displayed protrusions, stretching into the cytoplasm. Unusual honeycomb structures typically observed in etioplasts were observed in mature chloroplasts expressing swollenin. Treatment of cotton fiber with chloroplast-derived swollenin showed enlarged segments and the intertwined inner fibers were irreversibly unwound and fully opened up due to expansin activity of swollenin, causing disruption of hydrogen bonds in cellulose fibers. Cutinase transplastomic plants showed esterase and lipase activity, while swollenin transplastomic lines lacked such enzyme activities. Higher plants contain two major galactolipids, monogalactosyldiacylglycerol (MGDG) and digalactosyldiacylglycerol (DGDG), in their chloroplast thylakoid membranes that play distinct roles in their structural organization. Surprisingly, purified cutinase effectively hydrolyzed DGDG to MGDG, showing alpha galactosidase activity. Such hydrolysis resulted in unstacking of granal thylakoids in chloroplasts and other structural changes. These results demonstrate DGDG as novel substrate and function for cutinase. Both MGDG and DGDG were reduced up to 47.7% and 39.7% in cutinase and 68.5% and 67.5% in swollenin expressing plants. Novel properties and functions of both enzymes reported here for the first time should lead to better understanding and enhanced biomass hydrolysis.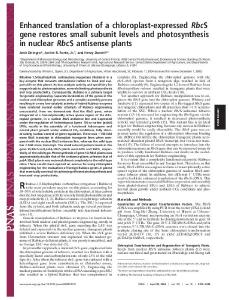 Enhanced translation of a chloroplast-expressed RbcS gene restores small subunit levels and photosynthesis in nuclear RbcS antisense plants
2004-04-20, Dhingra, Amit, Portis, Archie R., Daniell, Henry
Ribulose-1,5-bisphosphate carboxylase/oxygenase (Rubisco) is a key enzyme that converts atmospheric carbon to food and supports life on this planet. Its low catalytic activity and specificity for oxygen leads to photorespiration, severely limiting photosynthesis and crop productivity. Consequently, Rubisco is a primary target for genetic engineering. Separate localization of the genes in the nuclear and chloroplast genomes and a complex assembly process resulting in a very low catalytic activity of hybrid Rubisco enzymes have rendered several earlier attempts of Rubisco engineering unsuccessful. Here we demonstrate that the RbcS gene, when integrated at a transcriptionally active spacer region of the chloroplast genome, in a nuclear RbcS antisense line and expressed under the regulation of heterologous (gene 10) or native (psbA) UTRs, results in the assembly of a functional holoenzyme and normal plant growth under ambient CO2 conditions, fully shortcircuiting nuclear control of gene regulation. There was ≈150-fold more RbcS transcript in chloroplast transgenic lines when compared with the nuclear RbcS antisense line, whereas the wild type has 7-fold more transcript. The small subunit protein levels in the gene 10/RbcS and psbA/RbcS plants were 60% and 106%, respectively, of the wild type. Photosynthesis of gene 10/RbcS plants was approximately double that of the antisense plants, whereas that of psbA/RbcS plants was restored almost completely to the wild-type rates. These results have opened an avenue for using chloroplast engineering for the evaluation of foreign Rubisco genes in planta that eventually can result in achieving efficient photosynthesis and increased crop productivity.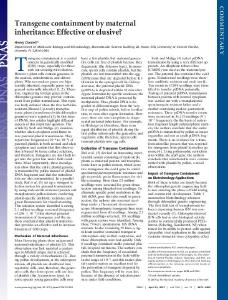 Transgene containment by maternal inheritance: Effective or elusive?
2007-04-17, Daniell, Henry
Transgene containment is a central concern in genetically modified (GM) crops, especially for those with out-crossing wild relatives. However, plant cells contain genomes in the nucleus, mitochondria, and chloroplasts. Whereas nuclear genes are biparentally inherited, organelle genes are in general maternally inherited (1, 2). Therefore, engineering foreign genes in the chloroplast genome may provide containment from pollen transmission. This topic was hotly debated when the first herbicide-resistant (Round-Up-ready) transplastomic plants (transformed with chloroplast genomes) were reported (3). In this issue of PNAS, two articles highlight different aspects of this important question. The article by Svab and Maliga (4) examines whether alien cytoplasm contributes to rare paternal plastid transmission. They report low frequencies (10−4 to 10−5) of paternal plastids in both normal and alien cytoplasm and caution that this observation is biased by tissue culture selection, and therefore transgenes are less likely to get into the germ line under field conditions. Most importantly, these investigators show that the entire plastid genome is transmitted by pollen instead of plastid DNA fragments and that the mitochondria are also cotransmitted. In a parallel study, Ruf et al. (5) set up a stringent selection system for paternal transmission by using male-sterile maternal parents and transplastomic pollen donors, conferring plastid-specific antibiotic resistance and green fluorescence for visual screening. This selection system identified 6 among 2.1 million seedlings screened (frequency of 2.86 × 10−6) that showed paternal transmission of transgenes, and the authors concluded that plastid transformation provides an effective tool to increase biosafety of GM crops.