Penn Dental Medicine
Established in 1878, Penn Dental Medicine is among the oldest university-affiliated dental schools in the nation. The school's mission is to transform global oral health and well-being through exceptional clinical care, innovation, education, and research.
Search results
Now showing
1 - 10 of 694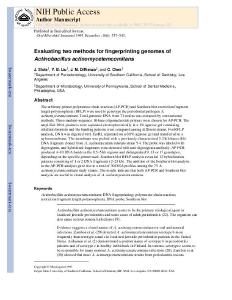 Evaluating Two Methods for Fingerprinting Genomes of Actinobacillus Actinomycetemcomitans
1993-12-01, Slots, J., Liu, Y. B., DiRienzo, J. M., Chen, C.
The arbitrary primer polymerase chain reaction (AP-PCR) and Southern blot restriction fragment length polymorphism (RFLP) were used to genotype the periodontal pathogen A. actinomycetemcomitans. Total genomic DNA from 73 strains was extracted by conventional methods. Three random-sequence 10-base oligonucleotide primers were chosen for AP-PCR. The amplified DNA products were separated electrophoretically in a 1% agarose gel containing ethidium bromide and the banding patterns were compared among different strains. For RFLP analysis, DNA was digested with EcoRI, separated on a 0.8% agarose gel and transferred to a nylon membrane. The membrane was probed with a previously characterized 5.2 kilobases (kb) DNA fragment cloned from A. actinomycetemcomitans strain Y4. The probe was labeled with digoxigenin, and hybridized fragments were detected with anti-digoxigenin antibody. AP-PCR produced 4–10 DNA bands in the 0.5–5 kb regions and distinguished 9, 13 or 17 genotypes, depending on the specific primer used. Southern blot RFLP analysis revealed 12 hybridization patterns consisting of 1 or 2 DNA fragments (2–23 kb). The addition of the Southern blot analysis to the AP-PCR analysis gave rise to a total of 30 DNA profiles among the 73 A. actinomycetemcomitans study strains. The results indicate that both AP-PCR and Southern blot analysis are useful in clonal analysis of A. actinomycetemcomitans.
Localization of Caveolin-1 and C-Src in Mature and Differentiating Photoreceptors: Raft Proteins Co-Distribute with Rhodopsin During Development
2011-12-01, Berta, Ágnes I., Boesze-Battaglia, Kathleen, Magyar, Attila, Szél, Ágoston, Kiss, Anna L.
Numerous biochemical and morphological studies have provided insight into the distribution pattern of caveolin-1 and the presence of membrane rafts in the vertebrate retina. To date however, studies have not addressed the localization profile of raft specific proteins during development. Therefore the purpose of our studies was to follow the localization pattern of caveolin-1, phospho-caveolin-1 and c-src in the developing retina and compare it to that observed in adults. Specific antibodies were used to visualize the distribution of caveolin-1, c-src, a kinase phosphorylating caveolin-1, and phospho-caveolin-1. The labeling pattern of this scaffolded complex was compared to those of rhodopsin and rhodopsin kinase. Samples were analyzed at various time points during postnatal development and compared to adult retinas. The immunocytochemical studies were complemented with immunoblots and immunoprecipitation studies. In the mature retina caveolin-1 and c-src localized mainly to the cell body and IS of photoreceptors, with only very weakly labeled OS. In contrast, phospho-caveolin-1 was only detectable in the OS of photoreceptors. During development we followed the expression and distribution profile of these proteins in a temporal sequence with special attention to the period when OS formation is most robust. Double labeling immunocytochemistry and immunoprecipitation showed rhodopsin to colocalize and co-immunoprecipitate with caveolin-1 and c-src. Individual punctate structures between the outer limiting membrane and the outer plexiform layer were seen at P10 to be labeled by both rhodopsin and caveolin-1 as well as by rhodopsin and c-src, respectively. These studies suggest that membrane raft specific proteins are co-distributed during development, thereby pointing to a role for such complexes in OS formation. In addition, the presence of small punctate structures containing caveolin-1, c-src and rhodopsin raise the possibility that these proteins may transport together to OS during development and that caveolin-1 exists predominantly in a phosphorylated form in the OS. © 2011 Springer Science+Business Media B.V.
Diabetes Aggravates Periodontitis by Limiting Repair Through Enhanced Inflammation
2012-04-01, Pacios, S., Kang, J., Galicia, J., Gluck, K., Hamel, P., Ovaydi-Mandel, A., Petrov, S., Alawi, F., Graves, D. T.
Periodontitis is the most common lytic bone disease and one of the first clinical manifestations of diabetes. Diabetes increases the risk of periodontitis. The aim of the present study was to examine mechanisms by which diabetes aggravates periodontitis. Ligature-induced periodontitis was examined in Goto-Kakizaki rats with type 2 diabetes. A tumor necrosis factor (TNF)-specificinhibitor, pegsunercept, was applied to diabetic rats after the onset of periodontal disease. Interferon-γ (IFN-γ), TNF-α, interleukin-1 β (IL-1β), fibroblast growth factor-2 (FGF-2), transforming growth factor beta-1 (TGFβ-1), bone morphogenetic protein-2 (BMP-2), and BMP-6 were measured by real-time RT-PCR, and histological sections were examined for leukocyte infiltration and several parameters related to bone resorption and formation. Inflammation was prolonged in diabetic rats and was reversed by the TNF inhibitor, which reduced cytokine mRNA levels, leukocyte infiltration, and osteoclasts. In contrast, new bone and osteoid formation and osteoblast numbers were increased significantly vs. untreated diabetic animals. TNF inhibition in diabetic animals also reduced apoptosis, increased proliferation of bone-lining cells, and increased mRNA levels of FGF-2, TGFβ-1, BMP-2, and BMP-6. Thus, diabetes prolongs inflammation and osteoclastogenesis in periodontitis and through TNF limits the normal reparative process by negatively modulating factors that regulate bone. © FASEB.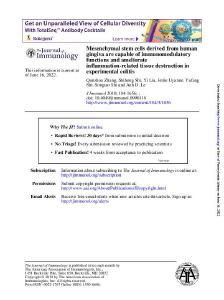 Mesenchymal Stem Cells Derived From Human Gingiva Are Capable of Immunomodulatory Functions and Ameliorate Inflammation-Related Tissue Destruction in Experimental Colitis (Journal of Immunology (2009) 183, (7787-7798))
2010-02-01, Zhang, Qunzhou, Shi, Hong, Liu, Yi, Uyanne, Jettie, Shi, Yufang, Shi, Songtao, Le, Anh D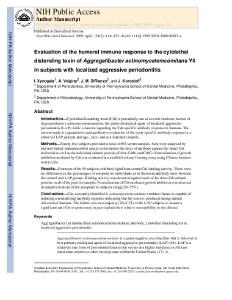 Evaluation of the Humoral Immune Response to the Cytolethal Distending Toxin of Aggregatibacter Actinomycetemcomitans Y4 in Subjects with Localized Aggressive Periodontitis
2009-04-01, Xynogala, I., Volgina, A., DiRienzo, J. M.
Introduction Cytolethal distending toxin (Cdt) is potentially one of several virulence factors of Aggregatibacter actinomycetemcomitans, the prime etiological agent of localized aggressive periodontitis (LAP). Little is known regarding the Cdt-specific antibody response in humans. The current study is a quantitative and qualitative evaluation of the toxin-specific antibody response in a cohort of LAP patients and age-, race- and sex-matched controls. Methods Ninety-five subjects provided a total of 692 serum samples. Sera were analysed by enzyme-linked immunosorbent assays to determine the titers of antibody against the intact Cdt holotoxin as well as the individual subunit proteins (CdtA, CdtB, and CdtC). Neutralization of growth inhibition mediated by Cdt was evaluated in a modified colony-forming assay using Chinese hamster ovary cells. Results Fourteen of the 95 subjects exhibited significant serum Cdt-binding activity. There were no differences in the percentages of seropositive individuals or in the mean antibody titers between the control and LAP groups. Binding activity was detected against each of the three Cdt subunit proteins in all of the positive samples. Neutralization of Cdt-mediated growth inhibition was detected in samples from all of the seropositive subjects (range 20–75%). Conclusions Cdt, a recently identified A. actinomycetemcomitans virulence factor, is capable of inducing a neutralizing antibody response indicating that the toxin is produced during natural infection of humans. The failure of a vast majority (20 of 23) of the LAP subjects to mount a significant anti-Cdt response may in part explain their relative susceptibility to the disease.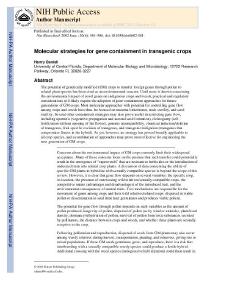 Molecular Strategies for Gene Containment in Transgenic Crops
2002-10-15, Daniell, Henry
The potential of genetically modified (GM) crops to transfer foreign genes through pollen to related plant species has been cited as an environmental concern. Until more is known concerning the environmental impact of novel genes on indigenous crops and weeds, practical and regulatory considerations will likely require the adoption of gene-containment approaches for future generations of GM crops. Most molecular approaches with potential for controlling gene flow among crops and weeds have thus far focused on maternal inheritance, male sterility, and seed sterility. Several other containment strategies may also prove useful in restricting gene flow, including apomixis (vegetative propagation and asexual seed formation), cleistogamy (self-fertilization without opening of the flower), genome incompatibility, chemical induction/deletion of transgenes, fruit-specific excision of transgenes, and transgenic mitigation (transgenes that compromise fitness in the hybrid). As yet, however, no strategy has proved broadly applicable to all crop species, and a combination of approaches may prove most effective for engineering the next generation of GM crops.