Consortium for Policy Research in Education
The Consortium for Policy Research in Education (CPRE) is a community of researchers from renowned research institutions and organizations committed to advancing educational policy and practice through evidence-based research.
Search results
Now showing
1 - 10 of 272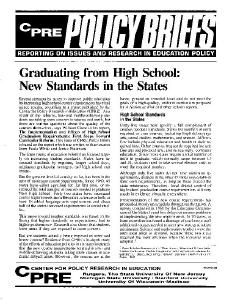 Graduating From High School: New Standards in the States
1989-04-01, University of Pennsylvania
This brief examines attempts by states to improve public education by increasing high school course requirements in 1989. According to a report published by the Center for Policy Research in Education, these attempts have had mixed results. As a result of the reforms, low-and middle-achieving students are taking more courses in science and math, but there are serious questions about the quality of the courses themselves. This issue of CPRE Policy Briefs is based on the report which was written with assistance from Paula White and Janice Patterson.
Partnering With School Districts to Improve Mathematics Instruction
2016-03-03, Supovitz, Jonathan A
In Search of Leading Indicators in Education
2012-07-10, Supovitz, Jonathan A, Foley, Ellen, Mishook, Jacob
Data have long been considered a key factor in organizational decision-making (Simon, 1955; Lindblom & Cohen, 1979). Data offer perspective, guidance, and insights that inform policy and practice (Newell & Simon, 1972; Kennedy, 1984). Recently, education policymakers have invested in the use of data for organizational improvement in states and districts with such initiatives as Race to The Top (United States Department of Education, 2010) and the development of statewide longitudinal data systems (Institute for Education Sciences, 2010). These and other initiatives focus attention on how data can be used to foster learning and improvement. In other fields, including economics and business, much work has been done to identify leading indicators that predict organizational outcomes. In this paper, we conceptualize how leading indicators might be used in education, using examples from a small sample of school districts with reputations as strong users of data. We define leading indicators as systematically collected data on an activity or condition that is related to a subsequent and valued outcome, as well as the processes surrounding the investigation of those data and the associated responses. Identifying leading indicators often prompts improvements in a district's system of supports. To develop this concept, we describe four examples of how districts identified and used key indicators to anticipate learning problems and improve student outcomes. We also describe the infrastructure and other supports that districts need to sustain this ambitious form of data use. We conclude by discussing how leading indicators can bring about more intelligent use of data in education.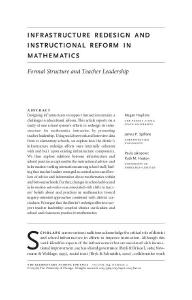 Infrastructure Redesign and Instructional Reform in Mathematics: Formal Structure and Teacher Leadership
2013-12-01, Hopkins, Megan, Spillane, James P, Jakopovic, Paula, Heaton, Ruth M, Policy, Administration, Technical Core
Designing infrastructures to support instruction remains a challenge in educational reform. This article reports on a study of one school system's efforts to redesign its infrastructure for mathematics instruction by promoting teacher leadership. Using social network and interview data from 12 elementary schools, we explore how the district's infrastructure redesign efforts were internally coherent with and built upon existing infrastructure components. We then explore relations between infrastructure and school practice as captured in the instructional advice- and information-seeking interactions among school staff, finding that teacher leaders emerged as central actors and brokers of advice and information about mathematics within and between schools. Further, changes in school advice and information networks were associated with shifts in teachers' beliefs about and practices in mathematics toward inquiry-oriented approaches consistent with district curriculum. We argue that the district's redesign efforts to support teacher leadership coupled district curriculum and school and classroom practice in mathematics.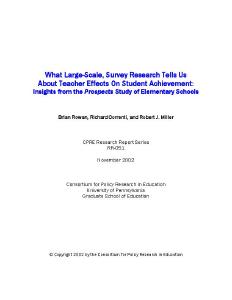 What Large-Scale, Survey Research Tells Us About Teacher Effects on Student Achievement: Insights From the Prospectus Study of Elementary Schools
2002-11-01, Rowan, Brian, Correnti, Richard, Miller, Robert J
This report is about conceptual and methodological issues that arise when educational researchers use data from large-scale, survey research studies to investigate teacher effects on student achievement. In the report, we illustrate these issues by reporting on a series of analyses we conducted using data from Prospects: The Congressionally Mandated Study of Educational Opportunity. This large-scale, survey research effort gathered a rich store of data on instructional processes and student achievement in a large sample of U.S. elementary schools during the early 1990s as part of the federal government's evaluation of the Title I program. We use data from Prospects to estimate the "overall" size of teacher effects on student achievement and to test some specific hypotheses about why such effects occur. On the basis of these analyses, we draw some substantive conclusions about the magnitude and sources of teacher effects on student achievement and suggest some ways that survey-based research on teaching can be improved.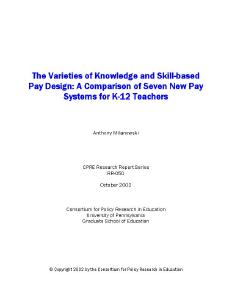 The Varieties of Knowledge and Skill-Based Pay Design: A Comparison of Seven New Pay Systems for K-12 Teachers
2002-10-01, Milanowski, Anthony
A number of lines of research (e.g., National Commission on Teaching and America's Future, 1996; Slavin & Fashola, 1998; Wright, Horn, & Sanders, 1997; Bembry, Jordan, Gomez, Anderson, & Mendro, 1998; Ferguson & Ladd, 1996) have identified teacher instructional capacity as a key variable in the success of educational reforms in improving student achievement. Since 2000, the Consortium for Policy Research in Education has been studying a new form of teacher compensation that may have the potential to support improvements in the capacity of teachers to deliver instruction that would enable all children to achieve to high academic standards, as well as to respond to the growing public concern that there be some link between teacher salaries and teacher performance. This innovation -- knowledge and skill-based pay -- rewards teachers with base pay increases and/or bonuses for acquiring and demonstrating specific knowledge and skills needed to meet educational goals, such as improving student achievement. The application of this pay concept to K-12 education has been suggested by Conley and Odden (1995), Mohrman, Morhman, and Odden (1996), and Odden and Kelley (1997). This report examines a study of seven knowledge and skill-based pay systems for teachers that have been developed by U.S. schools or districts.