Departmental Papers (Classical Studies)
For over two centuries Penn has offered a variety of undergraduate and graduate programs representing all aspects of the broad field of Classical Studies, from languages and literature to history, archaeology and cultural studies. The Department encourages interdisciplinary and comparative approaches to teaching and research and maintains productive ties with a variety of programs, including Religious Studies, English, Comparative Literature, Medieval Studies, Philosophy, Linguistics, Italian Studies, History of Art, and the Penn Museum of Archaeology and Anthropology.
Search results
Now showing
1 - 10 of 184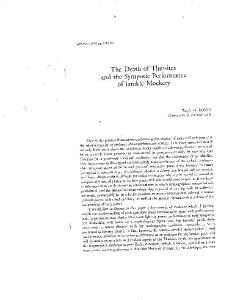 The Death of Thersites and the Sympotic Performance of Iambic Mockery
2003-01-01, Rosen, Ralph M, Rosen, Ralph M
One of the greatest frustrations confronting the student of archaic Greek poetry is the relative paucity of evidence about performance context. It is often lamented that if we only knew more about the conditions under which a work was performed, we would be in a much better position to understand its poetics - not only its meaning and function for a putatively "original" audience, but also the vicissitudes of its afterlife. Our frustrations in this regard are particularly acute in the archaic iambus - that infamous genre of satire and personal mockery - particularly because of its many transgressive conceits (e.g., aischrologia, abusive mockery, unelevated subject matter, etc.) have always made it difficult for critics to imagine why a poet would be moved to compose this sort of poetry in the first place, and who would want to hear it. If we knew a little more than we do about the circumstances in which iambographers composed and performed, and the particular relationships they expected to develop with an audience, we would presumably be in a much better position to assess cultural attitudes toward poetic satire and mockery, as well as the general dynamics that informed the composition of such poetry.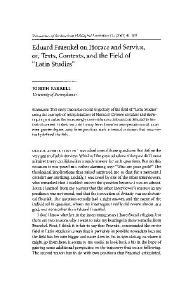 Eduard Fraenkel on Horace and Servius, or, Texts, Contexts, and the Field of "Latin Studies"
2005-01-01, Farrell, Joseph, Farrell, Joseph
This essay traces the recent trajectory of the field of "Latin Studies" using the example of interpretations of Horace's Carmen saeculare and showing, in particular, the increasingly comprehensive relevance attributed to historical context. It sketches a shift away from formalist interpretation and, to an even greater degree, away from practices, such as textual criticism, that once virtually defined the field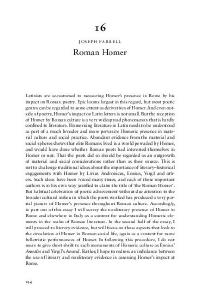 2004-01-01, Farrell, Joseph, Farrell, Joseph
Latinists are accustomed to measuring Homer's presence in Rome by his impact on Roman poetry. Epic looms largest in this regard, but most poetic genres can be regarded to some extent as derivatives of Homer. And even outside of poetry, Homer's impact on Latin letters is not small. But the reception of Homer by Roman culture is a very widespread phenomenon that is hardly confined to literature. Homerising literature in Latin needs to be understood as part of a much broader and more pervasive Homeric presence in material culture and social practice. Abundant evidence from the material and social spheres shows that elite Romans lived in a world pervaded by Homer, and would have done whether Roman poets had interested themselves in Homer or not. That the poets did so should be regarded as an outgrowth of material and social considerations rather than as their source. This is not to challenge traditional ideas about the importance of literary–historical engagements with Homer by Livius Andronicus, Ennius, Virgil and others. Such ideas have been voiced many times, and each of these important authors is in his own way justified to claim the title of 'the Roman Homer'. But habitual celebration of poetic achievement without due attention to the broader cultural milieu in which the poets worked has produced a very partial picture of Homer's presence throughout Roman culture. Accordingly, in part one of this essay I will survey the nonliterary presence of Homer in Rome and elsewhere in Italy as a context for understanding Homeric elements in the realm of Roman literature. In the second half of the essay, I will proceed to literary evidence, but will focus on those aspects that look to the circulation of Homer in Roman social life, again as a context for more belletristic performances of Homer. In following this procedure, I do not mean to give short shrift to such monuments of Homeric culture as Ennius' Annales and Virgil's Aeneid. Rather, I hope to redress an imbalance between the use of literary and nonliterary evidence in assessing Homer's impact at Rome.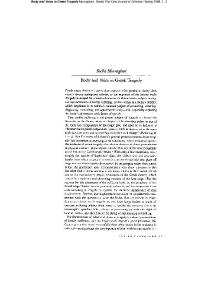 Body and Voice in Greek Tragedy
1988, Murnaghan, Sheila, Murnaghan, Sheila
Dialogue of Genres in Ovid's "Lovesong of Polyphemus" (Metamorphoses 13.719-897)
1992, Farrell, Joseph, Farrell, Joseph
Among the central critical issues surrounding Ovid's Metamorphoses--indeed, underlying many of this challenging text's unsolved problems--is the question of genre. Is the poem epic or a species of epic (e.g., anti-epic, epic parody, elegized epic, or epicized elegy); a type of Kollektivgedicht, stringing together either a series of examples from some miniature form such as the epyllion, or else sampling now one genre, now another; or is it simply unique, resisting any effort at categorization? Despite the intelligent and detailed discussion that the question has received during the past seventy-five years, it is safe to say that no critical consensus has emerged.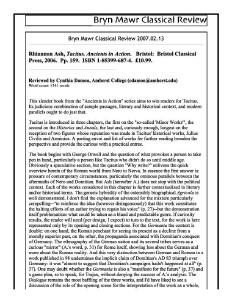 Tacitus (Ancients in Action)
2007-02-13, Damon, Cynthia, Damon, Cynthia