The convergence of haemodynamics, genomics, and endothelial structure in studies of the focal origin of atherosclerosis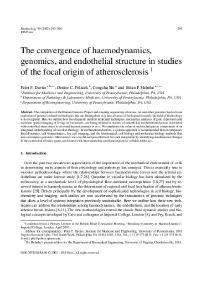 Penn collection
Institute for Medicine and Engineering Papers
Contributor
Abstract
The completion of the Human Genome Project and ongoing sequencing of mouse, rat and other genomes has led to an explosion of genetics-related technologies that are finding their way into all areas of biological research; the field of biorheology is no exception. Here we outline how two disparate modern molecular techniques, microarray analyses of gene expression and real-time spatial imaging of living cell structures, are being utilized in studies of endothelial mechanotransduction associated with controlled shear stress in vitro and haemodynamics in vivo. We emphasize the value of such techniques as components of an integrated understanding of vascular rheology. In mechanotransduction, a systems approach is recommended that encompasses fluid dynamics, cell biomechanics, live cell imaging, and the biochemical, cell biology and molecular biology methods that now encompass genomics. Microarrays are a useful and powerful tool for such integration by identifying simultaneous changes in the expression of many genes associated with interconnecting mechanoresponsive cellular pathways.
Date Range for Data Collection (Start Date)
Date Range for Data Collection (End Date)
Digital Object Identifier
Comments
Reprinted from <em>Biorheology</em>, Volume 39, April 2002, pages 299-306.
Collection