"Dona Nobis Pacem": The Ironic Message of Peace in Britten's War Requiem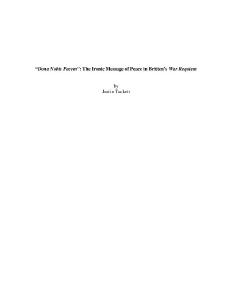 Penn collection
CUREJ - College Undergraduate Research Electronic Journal
Subject
Britten
Owen
requiem
war
poetry
music
Humanities
English
Amy Kaplan
Kaplan
Amy
Author
Contributor
Abstract
Benjamin Britten's War Requiem, first performed in 1962 at the dedication of the newly rebuilt Coventry Cathedral, juxtaposes the poetry of Wilfred Owen and the traditional requiem mass. This essay investigates the relationship between these two bodies of work and the manner in which Britten uses irony to memorialize the fallen of World Wars I and II.
Date Range for Data Collection (Start Date)
Date Range for Data Collection (End Date)
Digital Object Identifier
Comments
This essay was awarded the Dosoretz Family Prize for 2007.
Collection