Manuscript Studies: Volume 7, Issue 1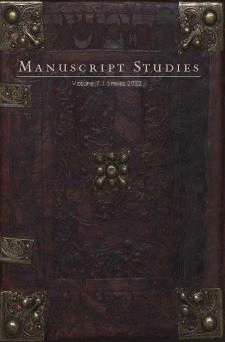 Search Results
Penna volans Discovered: Analysis of a New Exemplar of Calligraphic Virtuosity by Baldericus van Horicke (Brussels, ca. 1616)

(

2023-05-02

)

Bonilla, Diego N

;

Peleato, Sofía A

;

Bonilla, Diego N

;

Peleato, Sofía A

This article analyses an unpublished manuscript (here referred to as the Cuaderno Español) discovered in a private collection in Madrid, which contains eight folios of calligraphy by the hand of Baldericus van Horicke (†1643), a noted writing master active primarily at the court of the Archdukes of Austria in Brussels. A detailed paleographical study of the new manuscript enhances our knowledge of this exceptional virtuoso of the pen, who practiced at the height of the golden age of the writing arts in Europe. Additionally, such an analysis demonstrates how these calligraphic materials were used to teach the art of writing from the seventeenth century onwards.

Shorthand Crosses the Atlantic: An Overview and Preliminary Census of Shorthand Manuscripts in Early American Archives

(

2023-05-02

)

Delwiche, Theodore

;

Delwiche, Theodore

Forms of short and fast writing have existed since antiquity, but interest in them rapidly took off during the early modern period. Dozens of different manuals and methods appeared, all promising to teach the trendiest manuscript technologies of the day. Despite the widespread early modern interest in stenography and ciphers, relatively little research has been conducted on these scribal arts. Some scholars have focused on the famed diary of Samuel Pepys, but few have considered the scores of early modern journalists, ministers, students, diplomats, and merchants, among many others, who also actively employed fast writing in their daily lives. This article provides a historical overview of early modern shorthand, as well as an original bibliographic account of shorthand's presence and prevalence in colonial American archives.

The X-Ray Micro-CT of a Full Parchment Codex to Recover Hidden Text: Morgan Library M.910, an Early Coptic Acts of the Apostles Manuscript

(

2023-05-02

)

Dilley, Paul C.

;

Chapman, Christy

;

Parker, Clifford S.

;

Seales, W. Brent

;

Dilley, Paul C.

;

Chapman, Christy

;

Parker, Clifford S.

;

Seales, W. Brent

This annotation describes the first effort to read inside a damaged codex using X-Ray micro-CT imaging, which has an additional complication beyond most unrolled scrolls, for which the process has been successful: there is writing on both sides. The project is a collaboration between a humanist, a team of computer scientists and engineers, as well as librarians and conservators, to undertake the x-ray micro-CT imaging of codex M.910, a fifth- or sixth-century parchment codex of Acts of the Apostles which is too damaged to open in its current state. The first round of image processing was conducted in December 2017 at the Morgan Library and Museum, and a second round in November 2019; work on restoring the text using machine learning is ongoing, and has already resulted in the identification of some words and phrases. We first describe codex M.910, including the basics of its codicology, and its potential significance for early Christian book culture, as well as the history of the biblical text. We then provide an overview of the manuscript imaging process, at a level of technical detail intended for a general audience, with the hope of providing a reference for future work in this expanding field of research. The key initial step was the preparation of the manuscript's mount, which had to take into account the necessities of both conservation safety and micro-CT imaging. We also break down the imaging process itself, which was carried out by Skyscan micro-CT scanner, donated for use in this project by Micro Photonics. Finally, we give a brief discussion of the ongoing preliminary data analysis.